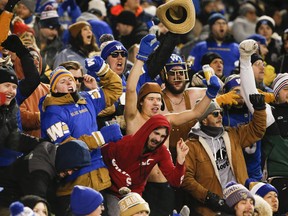 Article content
You often hear Blue Bombers players talk about having the best fans in the CFL in Winnipeg, but on Sunday the crowd had more of an impact on the football game than just supporting the home side.
Article content
The crowd of 30,319 at IG Field was so loud that it threw the B.C. Lions into disarray at crucial points of the CFL West final.
Article content
The Lions, needing a touchdown and a two-point convert to tie the game, were unable to communicate and ended up using up too much time as they tried to get a score. The Bombers wound up winning 28-20 and advanced to next Sunday's Grey Cup in Regina against the Toronto Argonauts.
Article content
"Credit to the Winnipeg fans," Lions quarterback Nathan Rourke said. "That's why you go for home-field advantage, right? It makes it tough on the other team, so hat's off to them."
It looked like the Lions were taking too long in trying to get play calls in to the offence. They started deep in their own territory with 1:30 left in the fourth quarter but let too much time tick down between each play.
Article content
"We're not trying to discuss plays there, we're trying to communicate," Campbell said. "Of course, we want to try to be better at that, but the fans are really good here. You can't hear a thing."
The Bombers won the West final at home for the second straight year and will look to become the first CFL team since 1982 to win as many as three Grey Cups in a row.
The Winnipeg players always have love for the fans in Blue and Gold, but in this case they were truly a part of the victory.
"If you looked at that last drive and you looked at how hard it was for the receivers to get the call and lined up to play a football play, that's the kind of effect our fans have," Bombers middle linebacker Adam Bighill said.
"(The Lions) were at a serious disadvantage snapping the ball with two seconds left on the count and the receivers are just hoping they do the right thing. That's a big deal and that's why we love our fans and why home-field advantage can be such a big deal."
Article content
The Bombers defence had an exceptional game on Sunday, getting interceptions from Winston Rose and Desmond Lawrence, and forcing two turnovers on downs.
Bombers coach Mike O'Shea praised the defence for coming up big in key situations and said the crowd contributed considerably.
"I can't say enough about the crowd," O'Shea said. "Tack them on to the defensive side. They made it so difficult on that offence, on B.C.'s offence to run those plays, at the end, with the clock ticking down. The fans chewed up so much clock for the defence, for our team. It's unbelievable."
Twitter.com/Ted_Wyman




Read More: Bombers credit home crowd with throwing Lions offence into disarray

2022-11-13 19:56:56