The NZ Super Fund is signalling that the days of "extraordinarily high returns" may be over.
Turbulent global financial markets saw the NZ Super Fund take a $3.3 billion hit to its value in the financial year to June 30, 2022.
The fund, set up to help out with the country's future pension requirements, stood at $55.7 billion, down from approximately $59 billion at the end of the previous financial year.  
The performance in the latest financial year contrasts hugely, with the bumper 30% rise in value the fund enjoyed in that previous financial year as it rode then super-buoyant global markets.
Fund chief executive Matt Whineray said that despite the tough global conditions in the latest financial yer, the fund's active investment strategies cushioned the overall impact – delivering record value-added returns.
"It might sound counter-intuitive to say we had a strong year with the drop in value of the fund," Whineray said.
"However, our active investment strategies have performed extremely well and are a reflection of the excellent work and skill of the team over many years."
Whineray said the passively-invested Reference Portfolio, which sets the overall portfolio risk target and makes up approximately 60% of the fund, returned -14.24% in the 2021/22 financial year. This is an index made up of 80% equities and 20% fixed income.
The 'active management' saw the fund significantly out-perform this passive Reference Portfolio benchmark by 7.25%, earning a record $4.5 billion in value add, which Whineray said represented "significant real value to New Zealand".
NZ Super said all figures presented are after costs and before New Zealand tax and are provided on a provisional, unaudited basis. The Guardians of New Zealand Superannuation 2021-2022 annual report and audited financial statements will be released in late October.
"While there is no hiding that market conditions are challenging – the first six months of 2022 have seen the worst global equity market performance since 1970 – the fund showed resilience and is performing well." Whineray said.
In the two months since the end of the 2022 financial year the size of the fund has recovered by approximately $2 billion to $57.3 billion.
Whineray believed, however, that the periods of "extraordinarily high returns", like 2020-2021 "are behind us".
"In effect we were bringing forward future returns in an environment which combined both monetary and fiscal stimulus."
Whineray said higher interest rates such as are now being seen both weigh on market performance and increase the fund's "internal hurdles" for making direct investments in companies.
"The external economic environment continues to present challenges to investors. Heightened inflation, and the associated response by central banks to push up interest rates to suppress demand, places considerable pressure on investment returns for both bonds and equities."
The market volatility is expected to continue, Whineray said.
"Stakeholders should expect to see further ups and downs going forward. As a long-term investor the fund is well-positioned for this sort of market.
"…We believe we're entering a lower return period, but remain confident our long-term approach will continue to deliver value to New Zealand."
Government contributions (net of NZ tax) since inception of the fund have been $12.6 billion.
In the last 10 years, the fund has generated returns of more than 12% a year.
The Government is projected to start making withdrawals from the fund to help pay for superannuation from the mid-2030s.
Since investing began in 2003 the fund has returned 9.65% per annum, equating to $34.6 billion more than the cost of Treasury Bills (what the Government would have saved if it simply paid down debt). The value added by active investment since inception represents $13.3 billion.
In terms of highlights in the past financial year, Whineray picked out the fund's "strategic tilting", timber, global macro, tactical credit and equity factors mandates with contributing to the strong value-add performance.
"Our Strategic Tilting strategy continues to perform above expectations and deliver strong value, with returns in 2021/22 largely driven by higher bond yields as central banks hiked interest rates in response to inflation.
"Timber also continues to outperform, headlined by our investment in Kaingaroa Timberlands, a radiata pine forest in the central North Island of New Zealand."
"Our global macro opportunity, a hedge fund strategy that bases its holdings primarily on the overall economic and political views of various countries or their macroeconomic principles, and our internally managed tactical credit mandate, also delivered strong returns. Tactical credit investments provide debt funding while using downside protection to mitigate or prevent a decrease in the value of an investment.
"Equity factors investments in developed markets had a very strong year, reversing prior under-performance. Factor-based investing is a long-term strategy that uses a range of criteria – such as value, quality, momentum and low risk factors – in an effort to out-perform traditional equity benchmarks, while taking lower levels of risk. An allocation to the 'value' factor, which had historically weighed negatively on performance, started to reverse in late 2021, after global equity markets began to pull back after reaching all-time highs."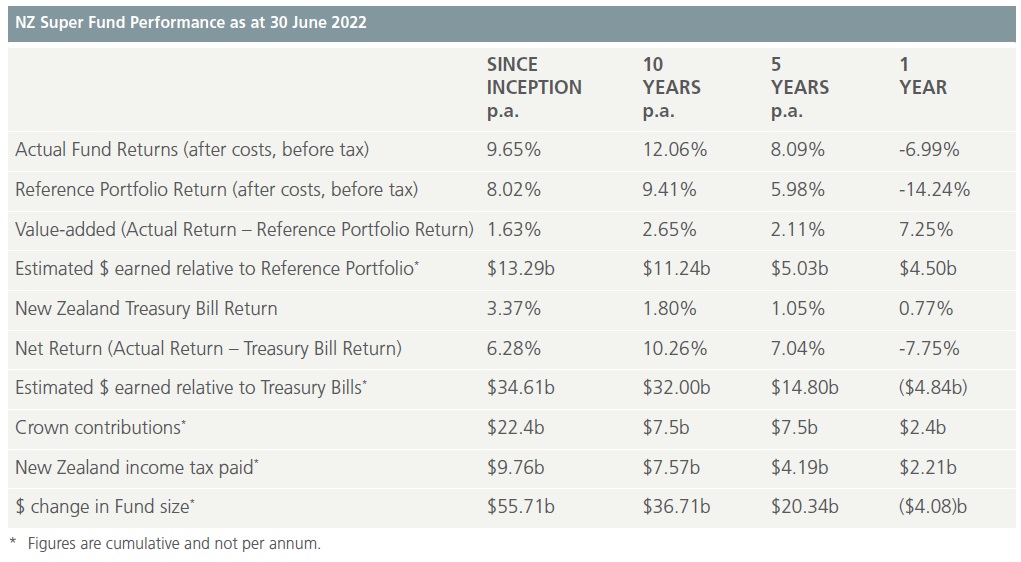 Read More: NZ Super Fund says the days of 'extraordinarily high returns' are over

2022-09-11 16:29:00